Nursing WCC - Wound Care Certification Exam Study Guide
---
The wound care certification examination managed and administered by national alliance of wound care. The wound care certification allows you to help to improve the quality of wound care for the patients and join a multidisciplinary network of wound specialists.
Format for WCC - Wound Care Certification Exam
---
The wound care certification examination is taken both in computer based and paper pencil format. Within a time period of two hours the candidates are required to attempt 110 questions. Generally the examiners try to evaluate the skills and knowledge of the candidate regarding the various types of wound and their treatment. The candidates are also evaluated over their Physiological abilities in order to see how they handle the patients and support their families. The subject areas covered in this examination include the following topics
Normal Skin, Wounds, and the Wound Healing Process
Data Collection
Systems Review and Head to Toe Visual Exams
Patients Nutritional Status
Wound Description
Wound Etiology
Treatment Recommendations
Wound Healing and Monitoring
nterdisciplinary Wound Treatment and Prevention
Legal, Ethics, and Policy
Wound Care Education and Training
Study Guide and Preparation for WCC - Wound Care Certification Exam
---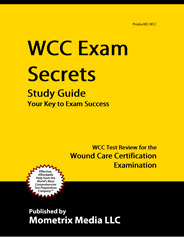 Since this examination covers a wide array of subject areas. For better preparation you can take the help of Wound care certification study guide. Through this study guide you can know the exact format of the examination and also the examination content and the types of questions asked in the recent years. Beside that its your hard work and learning skills thats gonna help your in the examination.
WCC Study Guide