CNA - Certified Nurse Assistant Exam Study Guide
---
The CNA certification exam is also known as the nurse aide assessment examination or the national nurse Aide Assessment program. This is the final test that a nurse aid student must pass in order to become eligible and get listed in the nurse aide registry in a particular state. This examination evaluates the knowledge, skills and abilities required to perform the job or a nursing assistant.
Format for CNA - Certified Nurse Assistant Exam
---
The CNA exam comprises of a written test and a practical test. The written section covers the issues like the patient care, patient monitoring, record keeping, laboratory and testing procedures. While the practical section of the examination includes performing measurements of vital signs like blood pressure, pulse and respiration, demonstrating proper bed setting skills, moving patients and helping them with dress ups and responding to various emergency calls.
The written section is times for two hours and contains 100 questions. While for the practical exams the candidates can arrive with their helpers.
---
Free CNA Exam Practice Questions
---
CNA Exam Free Sample Questions
---
Study Guide and Preparation for CNA - Certified Nurse Assistant Exam
---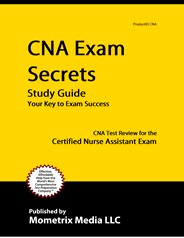 The CNA Exam is something that you cant take lightly. It can open up the doors for bigger opportunities for you. It is just like a gateway to enter bigger programs and better job opportunities. For the preparation you can take the help of CNA Study guide that will help you get familiarize with the examination format and content and prepare yourself in a better way.
CNA Study Guide