CVN - Cardiac Vascular Nursing Exam Study Guide
---
The CVN or the cardio vascular exam is administered by the American Nursing Credentialing center for both the associate degree and the baccalaureate degree.
Eligibility for CVN - Cardiac Vascular Nursing Exam
---
To appear for the CVN examination the candidate has to certify a few eligibility criteria:
The candidate must have a current and unrestricted license of registered nurse in United States.
The candidate must have a full time 2 year practice experience as a registered nurse.
The candidate must have acquired 2000 hours of clinical practice in cardiac vascular nursing with in the last three years.
The candidate must have completed 30 hours of continued education in cardiac vascular nursing in the past three years.
Format for CVN - Cardiac Vascular Nursing Exam
---
This is a comprehensive computer based exam that is taken at various centers across the United States. The CVN certification is valid for five years and the candidate can apply for renewal three months before the expiry. The examination lasts for around three and half hours. The CVN exam consists of 175 questions in total out of which 150 are scored and the other 25 questions are for the future references. The CVN examination content covers the following subjects:
Pathophysiology and Manifestation of Cardiac & Vascular Disease
Communication
Provision of Care
Patient & Family Care giver Education
Psychological Aspects of cardiac Vascular Disease
Leadership
Legal & Ethical Issues
---
Free CVN Exam Practice Questions
---
CVN Exam Free Sample Questions
---
Study Guide and Preparation for CVN - Cardiac Vascular Nursing Exam
---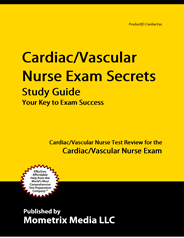 The CVN examination is a rigorous test in which the candidates are evaluated regarding their skills and knowledge over various issues. So you can take the help of a CVN study guide that will let you know the exact exam format and the content covered in the examination. This can even help you maximize your potential and perform better at the examination.
CVN Study Guide