Therapist -  IC&RC Alcohol & other Drug Abuse Counsellor Exam (AODA) Study Guide
---
International certification and reciprocity consortium are the international organizations that practices over addiction counselling, prevention and clinical practices through testing of addiction professionals. Drug abuse counsellors help the patient and his family by supporting them emotionally or psychologically in their poor circumstances. They provide treatment facilities to those who have been addicted to drugs and alcohols through chemical dependency.
Eligibility for Alcohol & other Drug Abuse Counsellor Exam
---
Candidates must be having work experiences in the field of alcohol and drug abuse.
Bachelors degree in science behavioural subject or masters degree is recommended with subsidy provided.
Candidate must seize 270 hours of working over AODA particular area and 300 hours of supervision over IC and RC areas.
Format for Alcohol & other Drug Abuse Counsellor Exam
---
The exam is conducted four times a year at SMT centers through the boards of IC and RC. It is a written test that comprises of a set of 150 multiple choice questions. Time allotted to complete this exam is 3 and 1/2 hours. Minimum marks accessed to pass this exam are up to 500. The contents involved for the vast preparation of the exam are given below-
clinical evaluation
treatment planning
referral
service coordination
counselling
documentation
client family and community education
professional and ethical responsibilities
Study Guide and Preparation for Alcohol & other Drug Abuse Counsellor Exam
---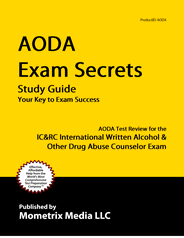 If you are preparing for the AODA examination you can take the help of AODA study guide that will help you have better knowledge of the examination format and will help you know the subject areas covered with the examination.
AODA Study Guide
How to Prepare for Multiple Choice Questions
---
Tips and tricks that can help you prepare for multiple choice questions and increase your mark. Prepared by professionals these tricks help you excel in IC&RC Alcohol & other Drug Abuse Counsellor Exam multiple choice exam.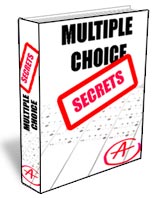 AODA Multiple Choice Strategies Guide