Therapist -  Child Life Specialist Exam Study Guide
---
Certified child life specialist is a certification provided to those who have passed the courses through the American Association. The basic purpose behind creating child life profession is to develop skills and knowledge to impart services to the children suffering from different childhood problems. A child life specialist works for the children and their families to help them understand the medical procedures and opinion followed in therapies. They even offer a support when they undergo through psychosomatic and emotional circumstances.
Eligibility for Child Life Specialist Exam
---
Before an applicant can apply for the certification in the child life courses he or she must be having a bachelors degree in any field. Candidates in final semester may also apply for it. Masters degree can be recommended as well for applying the course. The required coursework as established by the Child Life Council for eligibility for certification includes courses in the fields of child life, child development, family dynamics, sociology, psychology, expressive therapies, family development, and human development.
Format for Child Life Specialist Exam
---
Once you pass this exam you will earn the certification for five years. This exam is offered twice a year. The examination is comprised of 150 multiple choice questions out of which 25 questions are for future reference. The time allotted for the completion of exam is four hours. Following are the mentioned domains that cover the items related to the subject area:
Assessment
Intervention
Professional responsibility
Study Guide and Preparation for Child Life Specialist Exam
---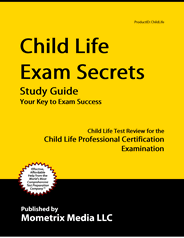 This exam is a computer based multiple choice exam. You should learn good tricks to handle the multiple choice questions. To get a good position in your exams you must be well prepared for it. For good study material you can add the references of flash cards and study guides which are written by the experts. You must practices test papers, sample papers etc for the betterment.
Child Life Specialist Exam Study Guide