HT Histotechnician and HTL Histotechnologist Certification Exam Study Guide
---
Exam for becoming HT (Histotechnician) or HTL (histotechnologist) is conducted by American Society for Clinical Pathology. This exam is hold to provide certification in the field of laboratory work force. This professional carries out the operation of checking abnormalities in the tissues and cells. Histotechnician and Histotechnologist are two stages of certification which varies on the basis of the skills and competencies of the candidate. Hence the candidate should prepare accordingly for the required certification.
Skills required for HT Histotechnician and HTL Histotechnologist Certification Exam
---
To be a Histotechnician or histotechnologist candidate should be fully informed and well versed in these four arenas- knowledge, technical skills, problem solving and management, communication and teaching methods. For becoming a Histotechnician, candidates knowledge should be well polished and apt. his/her technical skills should be well defined and to the recent trends. Managing and administering the problem is also a function of a Histotechnician. Moreover he/she should be able to communicate the problems to official sources. Rest a Histotechnician is also responsible for training other new technicians. A histotechnologist is a high official person having ample experience and advance knowledge of the field. His/her knowledge should be deep and wide. His technical skills should be innovative and able to conduct vigorous researches with new methodologies. A histotechnologist also gives analytical outlook to all the results. Moreover he is responsible for the supervising the lab tests and processes.
Format of HT Histotechnician and HTL Histotechnologist Certification Exam
---
The content of both the exam is same but the advancement varies according to the level. The topics inclusive in the exams are fixation which includes agents, tissues etc, processing and embedding, microtomy, staining and lab procedures and operations. These all topics carry unequal weightage. Hence candidate should prepare for the exam accordingly. The total passing marks required is 400. This test focuses on the cognitive skills of the candidate therefore its very necessary for the individual to brush up his/her knowledge.
Scope of HT Histotechnician and HTL Histotechnologist Certification Exam
---
Once the candidate gets the certification as a HT or HTL, he/she is liable to practice anywhere in the hospital or clinic. It is a very dignified and decent profession where candidates skills pay up for the respect and hard effort of supervision and management.
Study Guide And Test Preparation For HT Histotechnician and HTL Histotechnologist Certification Exam
---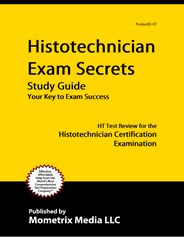 A Complete HT Histotechnician and HTL Histotechnologist Certification Exam Study Guide that includes sample questions, test tips and a complete study plan prepared by a team of expert and dedicated researchers. Cost-effective and qualified exam help from a committed exam preparation company.
HT Histotechnician and HTL Histotechnologist Certification Exam Study Guide