Certified Hemodialysis Technologist/Technician Exam Study Guide
---
CHT- Certified hemodialysis technologist/technician exam is conducted by BONENT (Board of Nephrology Examiners Nursing and Technology). This exam certifies the individual as a technician/technologist for carrying out the hemodialysis safely and professionally. It is a general test which examines candidates clinical skills and traits for operating equipments. BONENT accrediates the candidature knowledge to be a full time technician. Since different states have different requirements and eligibility criteria for a hemo technician therefore one should check it before applying for certified hemodialysis technologist/technician exam.
Eligibility for CHT - Certified Hemodialysis Technologist/Technician Exam
---
To become eligible for CHT exam one should be mentally and educationally prepared. Other than this applicant must possess a high school diploma or a dialysis specialized course approved and accredited by Board of Nephrology Examiners Nursing & Technology with 12 months of experience in clinical training under a medical supervision. Most importantly candidate must be employed at the time of submitting application for the exam (if in case candidate fulfills the latter condition).
Format of CHT - Certified Hemodialysis Technologist/Technician Exam
---
BONENT conducts the exam on a two dimensional stage that is on paper or online version. It depends on the Candidate that what he/she opts for. The exam carries 150 objective questions. The total duration of the exam is 180 minutes or 3 hours. This test is focused on several topics which are given unequal weightage and should be prepared accordingly respective to their importance. The most important being patient care and machine technology. Rest topics are water treatment, dialyzer reprocessing, personal development etc.. Other than this, topics like ultra filtration concepts, air embolism and evaluative measures at the time of treatment are important and should be read thoroughly. Hard core knowledge of various equipments and machines should occupy the applicants mind.
Scope of CHT - Certified Hemodialysis Technologist/Technician
---
Being a certified hemodialysis technician will give you the opportunity to be a technologist in your state but before migrating to the other one, applicant must make sure about the states requirements and validity of BONENT certification in the state.
Study Guide And Test Preparation For CHT Certified Hemodialysis Technologist/Technician Exam
---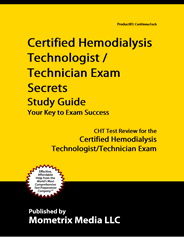 A Complete CHT Certified Hemodialysis Technologist/Technician Exam Study Guide that includes sample questions, test tips and a complete study plan prepared by a team of expert and dedicated researchers. Cost-effective and qualified exam help from a committed exam preparation company.
CHT Certified Hemodialysis Technologist/Technician Exam Study Guide