CCHT Certified Clinical Hemodialysis Technician Exam Test Preparation Study Guide
---
CCHT or certified clinical hemodialysis technician exam is conducted by Nephrology Nursing Certification Commission (NNCC). Individual accredited by NNCC can professionally practice as a hemodialysis technician. Therefore before applying for the certification applicant must make sure that he possess all the skills and knows techniques of safer and reliable mode of the treatment. Once the applicant gets credibility certification from NNCC, he/she can work on it for 3 years and it becomes valid from the last day of the month in which the candidate had given the exam.
Eligibility for CCHT Certified Clinical Hemodialysis Technician Exam
---
For becoming a certified hemodialysis technician one has to be a high school diploma holder. Moreover he/she should be trained as a dialysis technician. The course should include classroom study with practical exposure under clinical supervision. If in case applicant does not possess the classroom part but do have experience of practical training under medical supervision than he/she have to produce the copy of experience certificate undersigned by the supervisor. It is always recommended by the commission that candidate must possess atleast 6 months of experience before applying for the technician certification. This will help the candidate in understanding the syllabi and challenges of being a renal disease technician.
Format of CCHT Certified Clinical Hemodialysis Technician Exam
---
CCHT is a crucial and practical based exam where the candidates objectivity is measured substantially. Moreover work exposure and training period in respective field can help the applicant to pass through the test. Applicants knowledge, comprehensive power and application capability is judged in fields like clinical, technical, environmental and self involvement zone. This exam is conducted online in computer based centers where the applicant gets to know about the results just after the completion of test in case the number of questions correctly answered is more than 75%. This test certifies the individual only for 3 years after which one has to apply again for the recertification to NNCC.
Scope of CCHT Certified Clinical Hemodialysis Technician Exam
---
Once the individual gets certified as clinical hemodialysis technician then he/she is free to practice in any clinic or hospital. NNCC authorizes the applicant of being technically and clinically sound in conducting dialysis. Hence one has to be extremely careful and diligent towards choosing this profession as it carries millions of risks and challenges at every point.
Study Guide And Test Preparation for CCHT Certified Clinical Hemodialysis Technician Exam
---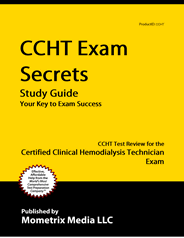 A Complete CCHT Certified Clinical Hemodialysis Technician Exam study guide that includes sample questions, test tips and a complete study plan prepared by a team of expert and dedicated researchers. Cost-effective and qualified exam help from a committed exam preparation company.
CCHT Certified Clinical Hemodialysis Technician Exam Study Guide