RPSGT Registered Polysomnographic Technologist Exam Study Guide
---
RPSGT or registered polysomnographic technologist exam is conducted by BRPT (Board of Registered Polysomnographic Technologist). This board certifies the applicant as a professional who can develop his career in the field of sleep study. Since it is a very heavy task hence even the exam is quite crucial and tough to tackle out.
Eligibility of RPSGT Registered Polysomnographic Technologist Exam
---
To be a polysomnographic technologist candidate should be efficient and determined enough to hold the profession to its commitment. He/she should possess experience in the field of polysomnography or sleep lab. It is the basic necessity of the exam that any applicant applying for the licensure should be well experienced. And if not experience he/she must have done course form the recognized university or college. Apart from this he/she should hold BCLS (Basic Cardiac Life Support) card. At the time of applying candidate should produce documents to prove his/her practical skills and knowledge regarding the field.
Format of RPSGT Registered Polysomnographic Technologist Exam
---
Since this profession is all based on the sleep study therefore the content of the exam is outline on such topics which are related to it. Subjects like patient care and interaction, theories of polysomnography, sleeping disorders, insomnia are of real importance. Hence candidate should read it well and prepare for the exam accordingly. These all topics carry unequal weightage in the exam. All in total nearly 110 questions are bowled on the candidate which is to be face just in 3 hours. The best knowledge which can be acquired to crack this exam is practical exposure which can definitely help the candidate to go through this.
Scope of RPSGT Registered Polysomnographic Technologist Exam
---
Since a polysomnographic technologist carries out his/her work during his patients sleeping hours, therefore sometimes he has to be very quick and fast. Moreover he/she should also be accurate too. Since this branch of medical technology is not popular enough hence the technologists are much in demand. Jobs are frequently being produced in the health sector which is proving boon for the upcoming professionals in the field.
Study Guide And Test Preparation For RPSGT Registered Polysomnographic Technologist Exam
---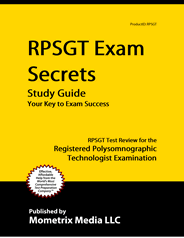 A Complete RPSGT Registered Polysomnographic Technologist Exam Study Guide that includes sample questions, test tips and a complete study plan prepared by a team of expert and dedicated researchers. Cost-effective and qualified exam help from a committed exam preparation company.
RPSGT Registered Polysomnographic Technologist Exam Study Guide