MLT Medical Laboratory Technician Certification Exam Study Guide
---
MLT or medical lab technician exam is conducted by AMT (American Medical Technologists). This exam focuses on the decision making capacity of the individual. Therefore the candidate should be educationally and experience wise perfect and should not lag behind. A technician performs all the duties under the close supervision of the technologists. A technician carries out the tests in the laboratories.
Eligibility for MLT Medical Laboratory Technician Certification Exam
---
To be a technician one has to pass exam conducted by AMT and be a licensure. The candidate should be an associate or graduate degree holder in the medical technology field. Other than this if the candidate holds the state license in generalized medical field then also he/she can apply for the same. Applicant must also have lab experience in clinical field in last 5 years. This experience will be authenticated by AMT. The lab experience should be in any of these field- blood bank, chemistry, hematology, microbiology, immunology etc. Rest the candidate should be of good moral character and committed towards the profession.
Format of MLT Medical Laboratory Technician Certification Exam
---
This exam thus does not have any pre defined outline. The exam material is given by the AMT itself which has to be returned to the administrator after the completion of the exam. The candidate should be careful about the conduct in the exam hall as it will be liable to cancel. The material encased to the candidate is strictly for non publication and non replication purpose, any candidate caught in such activity will liable to be cancel and confiscated. One candidate can take the exam 3 times if not succeeding in first attempt.
Scope of MLT Medical Laboratory Technician Certification Exam
---
Once the candidate becomes the licensure for practicing as a medical lab technician, he/she is recognized as a skilled and efficient worker in the profession. He/she performs all the vital functions in the laboratories from taking and handling specimens to testing the abnormality and vulnerability of the samples.
Study Guide And Test Preparation For MLT Medical Laboratory Technician Certification Exam
---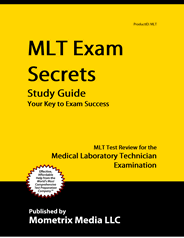 A Complete MLT Medical Laboratory Technician Certification Exam study guide that includes sample questions, test tips and a complete study plan prepared by a team of expert and dedicated researchers. Cost-effective and qualified exam help from a committed exam preparation company.
MLT Medical Laboratory Technician Certification Exam Study Guide