NRFRC National Registry First Responder Cognitive Exam Study Guide
---
NRFRC or national registry first responder cognitive exam is conducted by NREMT (National Registry of Emergency Medical Technician). After passing this exam candidate qualifies for the certification from the board to practice as a First Responder. This exam is conducted at two levels. First level being a computerized test and second is practical test which tests and assess the technical skills of the candidate. This certification is valid for two years and it should be reissues before it gets expired. Applicant applying for this certification should be quick and should have ample presence of mind. He/she should be quick in responding to the emergency situation
Eligibility For NRFRC National Registry First Responder Cognitive Exam
---
To apply for the first responder exam candidate must have completed EMR course in the last two years. If the candidate is applying for the national certification he/he should be state licensure in the same field. Other than this the candidate should possess good moral character. He/she should be well committed towards the profession since this job has unconventional working hours. When applying for recertification, applicant must meet the additional eligibilities like he/she must be giving his/her services in emergency medical field. He/she must also have completed 12 hours of education in the field of EMR. Topics inclusive in this are like clinical assessment, patient care etc.
Format of NRFRC National Registry First Responder Cognitive Exam
---
This exam is carried in two phases. One being computer automated test where the theoretical and competent skills of the candidate is tested. Second one is practical test where the candidate has to demonstrate his skills through various tests and activities. In written test, candidate has to encounter nearly 90-100 questions. The total duration for this test is one hour 45 minutes that means nearly 105 minutes. Topics covered in this exam are air ventilation, trauma handling and other emergency medical operations. The exam carries and covers vast area of focused first aid care of adults as well as infant patient. If the candidate fails in any of the test then he/she is liable to apply again after 15 days. Written exam score is valid for 12 months and training score is valid for 24 months after which candidate have to repeat the entire exam. All in total candidate is given 3 chances to qualify for the certification.
Scope of NRFRC National Registry First Responder Cognitive Exam
---
As an emergency first responder, candidate has to be ready even at the unconventional working hours since emergency can occur any time. He/she should be well versed with the knowledge of patients assessment techniques. Candidate should handle the panicky without being panic.
Study Guide And Test Preparation For NRFRC National Registry First Responder Cognitive Exam
---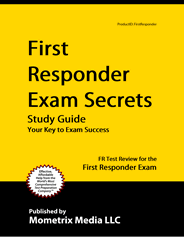 A Complete NRFRC National Registry First Responder Cognitive Exam study guide that includes sample questions, test tips and a complete study plan prepared by a team of expert and dedicated researchers. Cost-effective and qualified exam help from a committed exam preparation company.
NRFRC National Registry First Responder Cognitive Exam Study Guide