Mental health National Counselor Exam - NCE
---
The national board of certified counselors checks and finds those individuals who can be certified to work as a National Certified Counselors. NCE or the national counselor exam is used as a part of credentials in many states. The basic aim of this NCE is to acknowledge the skills and abilities of the candidates that are important with respect to the counseling services.
Format for National Counselor Exam
---
The NCE exam is a four hour paper pencil based multiple choice examination taken generally in the month of April and October. The exam has eight content areas and five work behaviors. The eight content areas include
Human Growth and Development

Social and Cultural Foundations

Helping Relationships

Group Work

Career and Lifestyle Development

Appraisal

Research and Program Evaluation

Professional Orientation & Ethics
The five work areas are featured as under:
Fundamentals of Counseling

Assessment and Career Counseling

Group Counseling

Programmatic and Clinical Intervention

Professional Practice Issues
The whole exam consist of 200 multiple choice question out of which 160 are scored while the 40 are for the future references.
Study Guide and Preparation for National Counselor Exam
---
A Complete National Counselor Exam that includes sample questions, test tips and a complete study plan prepared by a team of expert and dedicated researchers. Cost-effective and qualified exam help from a committed exam preparation company.
NCE Study Guide
How to Prepare for Multiple Choice Questions
---
Tips and tricks that can help you prepare for multiple choice questions and increase your mark. Prepared by professionals these tricks help you excel in National Counselor Exam multiple choice exam.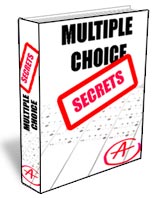 NCE Multiple Choice Strategies Guide