WEST B -Washington Educator Skills Test -Basic Study Guide
---
Students planning on entering programs to become certified teachers are required to pass the WEST-B in order to be accepted at any 4-year college in the state. Passing the WEST-B is also required by persons from out-of-state seeking a Washington State residency teaching certificate. The WEST-B test is administered by National evaluation Inc.
The WEST-B measures basic skills and understanding in reading, mathematics, and writing skills. The explicit purpose of the WESTB is to help identify candidates with the required level of basic skills to perform successfully in an educator preparation program or as a teacher in a public school classroom.
The WEST-B tests are criterion oriented and objective based. This test is designed to measure a candidates knowledge and skills in relation to an established standard. The passing scores are set by the professional educator standards board on recommendations from Washington educators. The test is offered six times a year. There are usually multiple choice questions. The writing section may include the writing prompts.
WEST B -Washington Educator Skills Test -Basic Study Guide
---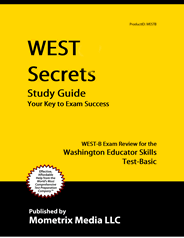 Complete study guide, prepared by experts, with everything you need all in one package.

Includes professionally prepared study plan, comprehensive content coverage, and step-by-step test preparation.
WEST B Study guide