PLACE Physical Education Exam Study Guide
---
Colorado Department of Education conducts regular assessments to identify eligible candidates of the state. Candidate clearing these assessments gets the credentials and authority to teach in Colorado State as Physical Education Teacher. PLACE Physical Education Exam is conducted in every alternative month in two different schedules morning and afternoon. Candidate can choose any of the schedules according to his convenience.
Eligibility for PLACE Physical Education Exam
---
To appear for PLACE Physical Education Exam, candidate should comply with following regulations of the education board;-
Candidate should be a baccalaureate from state or national university
Candidate should have completed teachers certification program from recognized board.
Candidate should not have any criminal record against him in the past.
Format of PLACE Physical Education Exam
---
PLACE Physical Education Board includes multiple choice questions only. There are 100 objective questions in the exam which are to be attempted in four and a half hours. Candidate should attempt each and every question to get maximum marks in the exam. Candidates performance is assessed on the scale of 300, out of which 220 are the minimum marks required to get the certification. In case the candidate falls short of the marks, then he is liable to take the assessment again in the next schedule.
Syllabus of PLACE Physical Education Exam
---
Syllabus of PLACE Physical Education Exam include following topics:-
Human development Stages of physical growth and development, Motor Development, Social and emotional Development, Adolescent Psychology, Muscular system, circulatory system, respiratory system, nervous system.
Physical Fitness physical fitness, aerobic conditioning, special kinds of training, exercise and training, physical fitness.
Acquisition of Motor Skill - biomechanics, motor learning, physical education activities, locomotors and non locomotors, skills development, manipulative skills development, body mechanics, rhythmic skills, movement education, dance and creative movement, gymnastics, swimming, basic rules of track and field, racquet sports, combative sports, lifelong sports, volleyball, basketball, football, floor hockey.
Implementation and Development of Program goals of physical education, curricular development, instructional approaches for physical education, special educational needs, physical education program, professional development, measurement techniques and characteristics, safety practice, emergency first aid assistance, physical education program.
Study Guide And Test Preparation For PLACE Physical Education Exam
---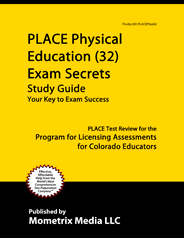 A Complete PLACE Physical Education Exam Study Guide that includes sample questions, test tips and a complete study plan prepared by a team of expert and dedicated researchers. Cost-effective and qualified exam help from a committed exam preparation company.
PLACE Physical Education Exam Study Guide