Pharmacy - Study Guide and Test Preparation
---
Medical aspirants who wish to take admission in various pharmacy programs are required to sit in various pharmacy entrance exams. Pharmacy entrance exams are conducted in order to see if the candidate has the required knowledge and capability to practice pharmacy. Some of the popular pharmacy examinations are:
FPGEE
---
FGPEE is accepted by more than 48 state boards of pharmacy. This exam tests the candidates regarding their knowledge, skills and judgement attributes. After you pass this exam you will receive the FGPEE certificate that would be required to appear for other state board exams like the NAPLEX
NAPLEX
---
The NAPLEX, or North American Pharmacist Licensure Examination, assesses the candidates knowledge of the practice of pharmacy. It is just one component of the licensure process and is used as assessment tool to measure candidates competence to practice as a pharmacist.
This test is usually taken to see if the candidate can practice standards for safe and effective pharmacotherapy and optimize therapeutic outcomes and if he is able to identify and determine safe and accurate methods to prepare and dispense medications and can provide and apply health care information to promote optimal health care
PCAT
---
The Pharmacy College Admission Test (PCAT) is a standardized test that assesses the Verbal Ability, Quantitative Ability, Biology, Chemistry, Reading Comprehension and Writing abilities. PCAT test score is considered as an important criterion for admission in various pharmacy schools. Apart from that Undergraduate performance, performance in science classes extracurricular activities will also determine whether a candidate is accepted into pharmacy school.
How to Prepare for Multiple Choice Questions
---
Tips and tricks that can help you prepare for multiple choice questions and increase your mark. Prepared by professionals these tricks help you excel in Pharmacy College Admission Test multiple choice exam.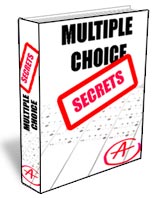 PCAT Multiple Choice Strategies Guide