Cambridge English for Speakers of Other Languages (ESOL) Study Guide
---
Learning English and acquiring fluency with the language both in speaking and writing is necessary, especially for the non English speakers. With joining these English learning you can not only improve your English language skills but can also enlarge your chances for getting better job opportunities. Educational institutions, along with employers and government immigration agencies, require proof of English language skills as part of their recruitment or admittance procedures. Increasingly, these organizations are using IELTS.
Cambridge ESOL
Cambridge ESOL offers the world's leading range of certificates for learners and teachers of English that help them gain entrance to university or college, improve job prospects or measure progress in English. There are five Cambridge ESOL exams
Key English Test (KET)
An elementary exam, at Cambridge ESOL level 1 is about halfway to PET that enrolls 180. to 200 hours of learning. It tests most basic communication needed in everyday situations and is suitable for students aged thirteen and over.
Preliminary English Test (PET)
The Cambridge ESOL level 2 exam tests language ability at lower-intermediate level. It covers all four language skills reading, writing, listening and speaking. PET reflects the use of language in real life and is accepted by many employers as proof of ability to use English in clerical, secretarial or managerial jobs.
First Certificate in English (FCE)
At Cambridge ESOL level 3 FCE is at the upper-intermediate or 'independent user' level.. FCE certificate is internationally recognized by employers, universities and government departments as a qualification in upper-intermediate English.
Certificate of Advanced English (CAE)
A Cambridge level 4 exam offers a lower-advanced language qualification for those who need to use English in their jobs. It is mostly taken by university students and young professionals. Many universities recognize CAE as an English language entry requirement
Certificate of Proficiency in English (CPE)
CPE a top grade of this ESOL exam certifies that the candidate has near native speaker ability. As such it fulfils entry requirements in English language by British universities and many universities in other English speaking countries and by other professional bodies worldwide.
Cambridge ESOL English for Speakers of Other Languages Study Guide
---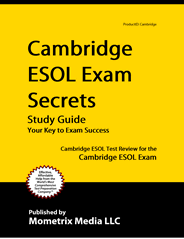 The expert advice and study tips of our exam researchers is invaluable! Learn how to study smart not hard with this complete package for studying! This package allows anyone to get the highest possible score with the least possible amount of studying.
Includes:

Comprehensive Test Taking Strategy review
Reading Review
Writing Review
English in Use Review
Listening Review
Speaking Review
And a lot more...
ESOL Study Guide