Certified Payroll Professional Examination CPP Test Preparation Study Guide
---
The CPP exam was introduced by the American Payroll Association (APA), an organization of payroll professionals in the U.S. Founded in 1982. The CPP exam is administered by Pearson VUE on behalf of the APA.
Format Of The Certified Payroll Professional (CPP) Exam:
---
The CPP exam is computer-based exam consisting of 190 multiple-choice questions of which 25 are pretest items while 165 are scored questions. The content covered in the exam is as follows:
Core Payroll Concepts:
Worker Status
Fair Labour Standards Act
Employment Taxes
Employee Benefits
Employee/Employer Forms
Professional Responsibility
Methods and Timing of Pay
Customer Service
Compliance :
Escheatment
Regulatory
Reporting
Record Retention
Penalties
Principles of Paycheck Calculations :
Compensation/Benefits
Involuntary Deductions
Voluntary Deductions (pre- and post-tax)
Employer Taxes and Contributions
Net, Disposable, Take-home Pay
Payroll Process and Systems:
Maintain Master File Components
Concepts and Functionalities
Disaster Recovery Plan
Selection
Implementation/Upgrades
Maintenance/Updates
Accounting :
Accounting Principles
General Ledger Account Classification
Payroll Journal Entry
Account Reconciliation
Management and Administration
Policies and Procedures
Auditing
Staffing, Employee Development and Core Competencies
Management Skills and Practices
Communication
The Candidates are given 4 hours to complete the examination.
Certified Payroll Professional Examination CPP
---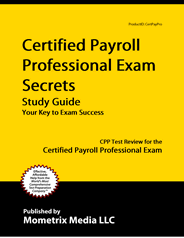 A Complete Certified Payroll Professional Examination study guide that includes sample questions, test tips and a complete study plan prepared by a team of expert and dedicated researchers. Cost-effective and qualified exam help from a committed exam preparation company.
CPP Study Guide
How to Prepare for Multiple Choice Questions
---
Tips and tricks that can help you prepare for multiple choice questions and increase your mark. Prepared by professionals these tricks help you excel in Certified Payroll Professional multiple choice exam.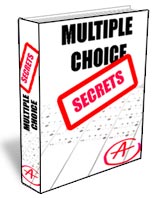 CPP Multiple Choice Strategies Guide