Claims Adjuster Exam Test Preparation Study Guide
---
Claims Adjuster exam is a state-specific exam. Every state has different licensing requirements for the claims adjuster examination.
Format Of The Claims Adjuster exam:
---
The exam consists of multiple-choice questions covering the following content areas:
Insurance Definitions and Risks
Insurance Types
Insurance Regulations and Taxation Policies
Producer Regulations and Practices
Producer Authority and Insurance Contract Elements
Contract Characteristics
Policy Issuance and Underwriting Processes
Premium Determination
Reserves
Group Insurance Rates, Premiums and Insurance Underwriting

Study Guide And Preparation Tips For Claims Adjuster Exam:
---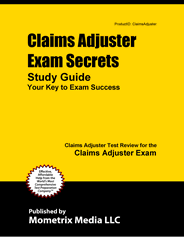 A Complete Claims Adjuster Exam study guide that includes sample questions, test tips and a complete study plan prepared by a team of expert and dedicated researchers. Cost-effective and qualified exam help from a committed exam preparation company.
CAE Test Preparation Study Guide
How to Prepare for Multiple Choice Questions
---
Tips and tricks that can help you prepare for multiple choice questions and increase your mark. Prepared by professionals these tricks help you excel in Claims Adjuster Exam multiple choice exam.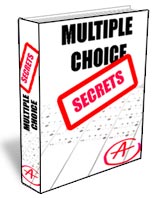 Claims Adjuster Exam Multiple Choice Strategies Guide