Environmental - CIH - Certified Industrial Hygienist Exam Study Guide
---
Industrial hygiene is the science of anticipating, recognizing and evaluating work place conditions. An industrial hygienist uses tools like environmental monitoring and analytical methods to control potential health hazards at the work place.
In United States of America the Industrial Hygienists (IH) are certified by the American board of Industrial Hygiene which is a non profit corporation working to improve the working standards both in practice and educational aspects.
To be a certified industrial hygienist the candidate has to pass the certified Industrial hygienist exam. The CIH exam assesses the skills that are required for the profession of a certified industrial Hygienist.
Industrial Hygienist Exam Eligibility Criteria

---
• The candidate must have a Bachelor's Degree in biology, chemistry, chemical engineering, mechanical engineering, sanitary engineering, physics from an accredited university or an ABET accredited program in industrial hygiene or safety.
• Also the candidate must have academic or continuing education coursework addressing industrial hygiene, toxicology, fundamentals, measurements and controls

Certified Industrial Hygienist Exam Course

---
The CIH exam is offered in a computer-based multiple choice question format and lasts for around three and a half hours. While you are on with CIH exam preparation, study guide over following subjects will help you prepare well for the CIH test.
• Air Sampling & Instrumentation
• Analytical Chemistry
• Basic Science
• Bio hazards
• Biostatistics & Epidemiology
• Community Exposure
• Engineering Controls/Ventilation
• Ergonomics
• Health Risk Analysis & Hazard Communication
• Management
• Noise
• Non-Engineering Controls
• Radiation & dash; Ionizing and Non-ionizing
• Thermal Stressors
• Toxicology
• Work Environments & Industrial Processes
CIH - Certified Industrial Hygienist Exam Study Guide
---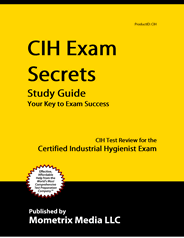 As a CIH study guide reference you need to look in each and every aspect of the above mentioned subject area, grasp all the important points and basics. Success come surely with hard work and harder and smarter your work you will be just adding up your chances of getting through the certified Industrial Hygienist exam.
CIH Study Guide
How to Prepare for Multiple Choice Questions
---
Tips and tricks that can help you prepare for multiple choice questions and increase your mark. Prepared by professionals these tricks help you excel in Certified Industrial Hygienist multiple choice exam.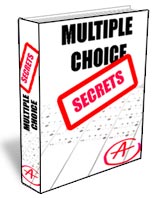 CIH Multiple Choice Strategies Guide