Certified Diabetes Educator Certification Examination CDE Test Preparation Study Guide
---
The purpose of the CDE exam is to identify health care professionals who can work efficiently as diabetes educators. The exam is administered by the National Certification Board For Diabetes Educators.
Format Of The Certified Diabetes Educator (CDE) Certification Examination:
---
The CDE examination is offered in paper-and-pencil format. It consists of 200 multiple-choice questions that cover the following subject areas:
Assessment (45)
A. Assess Learning/Self-Care Behaviours (15)
B. Assess Medical/Health/Psycho-Socio-economic Status (10)
C. Assess Current Knowledge and Practices Related to Diabetes Care (20)
Intervention (112)
A. Collaborate with Patient/Family/Caregiver/Healthcare Team to Develop educational plans, Instructional Methods and Behavioral Goals (14)
B. Teach/Counsel Regarding Principles of Diabetes Care (70)
C. Review, Evaluation, Revision, and Documentation (14)
D. Follow-up and Referral Recommendations (14)
Program Development and Administration (18)
A. Diabetes Patient Education Program (8)
B. Evaluate Outcomes and Quality (6)
C. Promote Diabetes Advocacy (4)
The candidates are given 4 hours to complete the examination.
Study Guide And Preparation Tips For The Certified Diabetes Educator Certification Exam:
---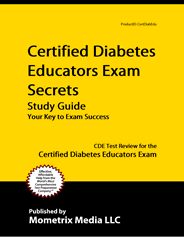 A Complete CDE Certification Examination study guide that includes sample questions, test tips and a complete study plan prepared by a team of expert and dedicated researchers. Cost-effective and qualified exam help from a committed exam preparation company.
CDE Study Guide
How to Prepare for Multiple Choice Questions
---
Tips and tricks that can help you prepare for multiple choice questions and increase your mark. Prepared by professionals these tricks help you excel in Certified Diabetes Educator multiple choice exam.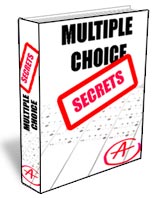 CDE Multiple Choice Strategies Guide