Auctioneer Test Study Guide
---
The Auctioneer Exam was developed by the Texas Department Of Licensing And Regulation. The PSI services are responsible for conducting the examination on behalf of the Texas Department Of Licensing And Regulation.
Format Of The Auctioneer Exam:
---
The Auctioneer exam is offered in computer-based format. It consists of 75 questions based on the following content areas:
Texas Occupations Codes Section 1802
Bid Calling
License Requirements
Occupation Codes - Advertising, Licensing,
Co-mingled Funds, Claims, Recovery Funds
Commerce/Business/ Trade
Uniform Commerce Code - Notice of Sale, Sale of goods, ISF checks
Reserve Sales, Conditions of Sale
Other Laws
Deceptive trade practices TX Mfd Housing Act
TX Health Laws
TX Park and Wildlife Code
Tax Law Calculations
Payment and collection for State
Sales Taxes

Study Guide And Preparation Tips For Auctioneer Test
---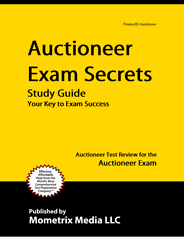 A Complete Auctioneer Test study guide that includes sample questions, test tips and a complete study plan prepared by a team of expert and dedicated researchers. Cost-effective and qualified exam help from a committed exam preparation company.
Auctioneer Test Study Guide