Air Systems Cleaning Specialist Certification Examination ASCS Test Preparation Study Guide
---
The ASCS exam is offered by the National Air Duct Cleaners Association (NADCA). The purpose of the exam is to test whether a contractor has knowledge of HVAC cleaning, NADCA standards and OSHA regulations.
Format Of The Air System Cleaning Specialist (ASCS) Certification Exam:
---
The ASCS exam is administered in both written and computer-based format. It consists of 150 multiple-choice questions which the candidate needs to complete in 3 and a half hours. The topics covered in the exam are as follows:
A. Assessing Problems
Performing visual inspections
Identifying problem conditions and possible solutions
Referring to related trades, professions and disciplines
B. Assessing Mechanical Systems
Demonstrating knowledge of HVAC systems
Demonstrating knowledge of mechanical components
C. Protecting the Health and Safety of Employees, Building Occupants, and the Indoor Environment
Adhering to relevant federal regulations and national standards
Preparing and protecting the site
D. Performing the cleaning
Accessing and closing the system
Selecting equipment
Selecting materials, chemicals, and methods of application
Selecting Cleaning Methods
Verifying HVAC Cleanliness
Study Guide And Preparation Tips For Air Systems Cleaning Specialist Certification Examination ASCS
---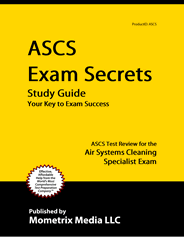 A Complete ASCS study guide that includes sample questions, test tips and a complete study plan prepared by a team of expert and dedicated researchers. Cost-effective and qualified exam help from a committed exam preparation company.
ASCS Study Guide
How to Prepare for Multiple Choice Questions
---
Tips and tricks that can help you prepare for multiple choice questions and increase your mark. Prepared by professionals these tricks help you excel in Air Systems Cleaning Specialist multiple choice exam.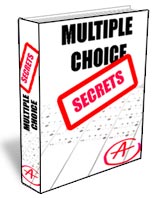 ASCS Multiple Choice Strategies Guide