Alabama High School Graduation Exam (AHSGE) Test Preparation and Study Guide
---
If you are seeking a high school diploma in Alabama , you need to get through the Alabama High school graduation exam, that is a pre-requisite in addition to high school course work. The AHSGE exam is aimed to assess students strengths and weaknesses. It also checks the students passing each subject area for test grade 10, 11 and 12. This High school exam also sees that the students appearing for the test have acquired the basic knowledge that is required for the completion of Alabama high school diploma.
The Alabama High school graduation exam is also seen as the basis of granting high school grants in Alabama .
AHSGE - Alabama High School Graduation Exam Test Format
---
The AHSGE is an un-timed exam. The aspirants can take as much time as they require, but generally this test lasts for around three hours. The Alabama High School Graduation exam consists of five sections:
Reading
Math
Language
Science
Social studies
The reading section involves passage reading and evaluates the comprehension solving skills of the candidate. The Mathematics section includes question based over basic algebra and geometry. Candidate's grammar and vocabulary knowledge are tested inside the Language section. The candidates are required to answer the questions related to the physical sciences in the Science section. The Social Studies section covers American history up to the Second World War.
AHSGE - Alabama High School Graduation Exam Preparation
---
AHSGE is a very competitive test that can earn you a high school diploma in Alabama . For the preparation you can refer to some AHSGE test guide or can go for an online referral source. This will allow you get familiarize with the concepts of the exam and prepare well. Your better time management and revision courses can enhance your chance of adopting a good score in the examination.
AHSGE - Alabama High School Graduation Exam Preparation
---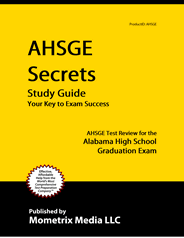 You receive the benefit of our hard work! Here is a complete exam guide with everything you need, including complete study plan prepared by experts.
AHSGE Study Guide