Preparing for Accuplacer Exam and looking for Accuplacer Test Preparation - Accuplacer Study Guide
---
Accuplacer is a computer based comprehensive test given to some potential college students in order to help the colleges and universities to properly place them.
Accuplacer Test Guide
---
The Accuplacer test is an adaptive test. Questions relate to the previous questions that you have answered. In an adaptive exam complexity increases with each correct answer and in case of a wrong answer the complexity of the test decreases. The questions are offered according to the skills and abilities of the candidate. The candidate can alter the answers before proceeding to the next one but it isn't possible to skip the question and return back.
Accuplacer Exam Format
---
The Accuplacer exam is a multiple choice question based exam. This is not a time bound test and the candidates can take as much time as they desire. Only the essay section is bound to the time limits.
The Accuplacer exam is based on the following subject matter:

Sentence skills and grammar : This section includes two types of questions. One is the sentence correction where the candidate has to find the errors with the sentence formation and correct it. And the other is rewriting sentences, where the candidate are required to interpret the sentence.

Reading comprehension : This section includes few passages that the candidate's need to go through and answer the following questions. This is used to assess the understanding skills of the candidate. Some questions may even ask the candidate to establish the relationship of one incident to the other.

Arithmetic and basic mathematics: This section may include mathematical problems from a high school level to a college level algebra.

Writing portion : In this section the candidate is asked to write an essay on the provided topic. Unlike other Accuplacer test sections this portion is a time based.
Study Guide and Preparation for Accuplacer Exam
---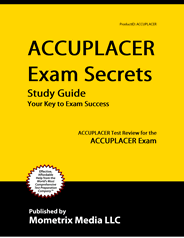 Getting through the Accuplacer test is quite essential as this will decide your placement at a particular college or university. This is not a hardcore test as some students may think of it. If you are clear with your basics and have thoroughly gone through your high school course work, you can get through the Accuplacer test very smoothly. But still you need to have Accuplacer Test preparation, to enhance your chances and to gain a placement at the college or university of your choice.
Accuplacer Study Guide
How to Prepare for Multiple Choice Questions
---
Tips and tricks that can help you prepare for multiple choice questions and increase your mark. Prepared by professionals these tricks help you excel in Accuplacer Exam multiple choice exam.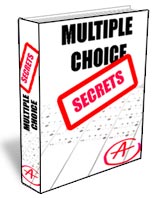 Accuplacer Exam Multiple Choice Strategies Guide