How to Overcome Examination Fear
---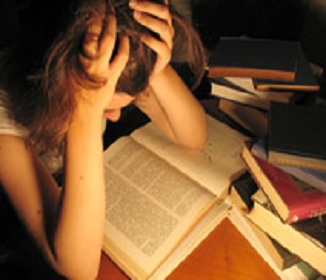 Exams are round the corner and feeling stressed out? Well, this usually happens to students in the final round of their exams and especially to those students who are not regular with their studies.
All said and done regarding exam stress or exam blues! How to get the student away from this mess?
Follow these simple steps and you will feel better:
You should try to organize your time table: You should try to get hold of the right information. This can be easily got from your school or university teachers. Try to get information on revision guides, coaching classes or even a private tutor. If you find one stick to it.
Make A Time Table: This can easily be done by making a weekly time table along with the time specified. You should start by placing your weak subjects first and then go down the order.
How To Revise? :It's not always easy to revise as there may not be enough peace and quiet at home. You can either revise with friends or on your own at a time suitable for you.
How To Overcome stress? There are many ways to overcome stress. This can be done through either of these methods- By undertaking deep breathing exercises, taking a walk in the outside fresh air, chilling out with friends- well friends mean those who may not be disturbed with their studies and even watching your favorite T.V. program.
What Should One Eat During Exams?: This is a million dollar question as eating the right food at this time will certainly help you in de stressing. You should eat such foods as vitamins and proteins, such as green leafy vegetables and fresh fruits, are a must. You should not drink too much coffee, tea or fizz drinks. On the other hand, Caffeine will keep you up and reduce the ability of your thinking.
On Examination Day: You should remember not to get up as you may easily feel tired. Try to have a light and healthy breakfast. You should try to keep yourself away from stressful people. Reaching the examination centre early does help.
You are taking the Exam! What Now? You should read the exam paper thoroughly, decide on the order to answer and plan the answer in not from. Finally start writing. Remember to revise your paper. On following these simple steps, you will never be in exam stress.
BEST OF LUCK For Your Exam!